Statistics show that a Forced Landing Into Trees is a highly survivable option insofar as forced emergency landings go.
The statistics gleaned from the FLIT and Non-FLIT events currently documented clearly indicate this.
To view the case studies that comprise these statistics, please take the FLIT: Forced Landing Into Trees online training HERE: https://av8torsafety.com/courses/flit/
FLIT Global Event Map
The FLIT Global Event Map logs all aviation accident events that comprise the FLIT Statistics.
FLIT & Non-FLIT Event Definitions
FLIT Events – aviation incidents/accidents in which both intentional and inadvertent Forced Landing Into Trees was used for a forced emergency landing option
Non-FLIT Events – aviation incidents/accidents in which a FLIT-option was available as a forced emergency landing option, but it is assumed that the PIC decided against it, landing/crashing adjacent the FLIT option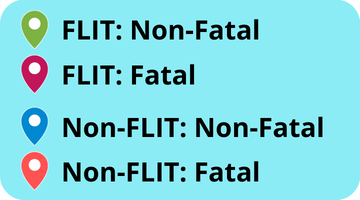 FLIT vs. Non-FLIT Statistics
(including AAF Airbus 320 Event)
*Airbus A320 Event can be found in FLIT Case Study # 10: Airshow Crash – Demonstration Flight – Mulhouse-Habsheim, France – Airbus A320 [FLIT]
FLIT vs. Non-FLIT Statistics
(excluding AAF Airbus 320 Event)
*Airbus A320 Event can be found in FLIT Case Study # 10: Airshow Crash – Demonstration Flight – Mulhouse-Habsheim, France – Airbus A320 [FLIT]